South Africans head to the polls in key election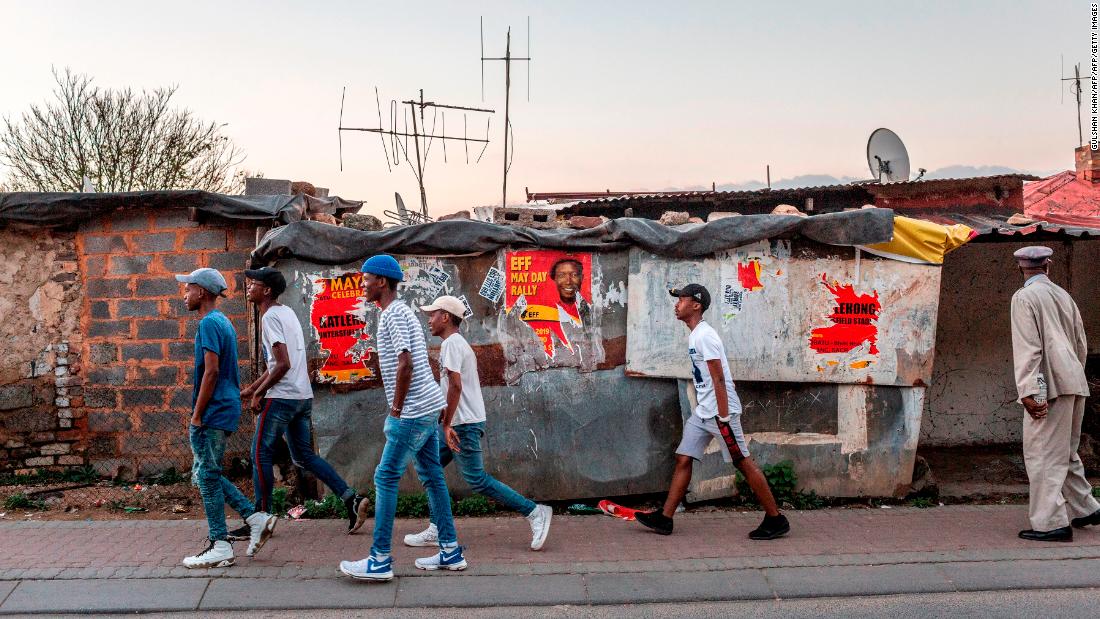 Johannesburg (CNN)Twenty-five years after the dawn of democracy in South Africa, citizens are heading to the polls in their millions.
President Cyril Ramaphosa is promising voters that he will crack down on corruption in the ruling African National Congress (ANC), following years of graft scandals associated with his predecessor Jacob Zuma's time in office.
But the party of Nelson Mandela faces widespread apathy among voters born after apartheid, known as the "born-free" generation. It's also facing the challenge of an insurgent radical party from the left, led by the charismatic former ANC member Julius Malema.
"I think the ANC is going to be the biggest loser in this election, because the ANC is not going to enjoy the majority as it has been enjoying before," said Xolani Dube, a political analyst from the Xubera Institute of Research and Development.
The ANC faced a steep decline in support in the last local election in South Africa in 2016, when it lost some key cities to opposition parties.
During Zuma's tenure, both the official opposition party Democratic Alliance and Malema's Economic Freedom Fighters (EFF) were able to capitalize on anger generated by daily headlines alleging corruption in the highest echelons of power.
Zuma has long denied allegations of wrongdoing.
Incumbent credentials
In Ramaphosa, the opposition faces a formidable opponent. A former trade union leader turned wealthy businessman, Ramaphosa is well-liked among South Africa's middle-classes and is seen by some as an antidote to the Zuma years.
But some don't buy it. "The issue at the center of South African politics is the fight against corruption. And when you fight against corruption you are fighting against the ANC," says Dube.
Some voters in the Orlando East Communal hall in Soweto, not far from Mandela's old home, expressed a similar hunger for change. A handful were lined up before dawn despite the cold, eager to cast their ballot.
"We're voting for change. We're voting for a better future for ourselves, for our kids," said Eddie Nzoyi, one of the voters lined up. He said he believed the issues people are most worried about are corruption and crime.
For many South Africans, basic survival is also front of mind this election. A recent World Bank survey showed that the country is the most unequal on earth, with South Africa's richest households almost 10 times wealthier than poor households.
Despite the rise of a black middle class, much of the disparity falls along racial lines — the legacy of apartheid's racist legislation.
Previously disadvantaged South Africans hold fewer assets, have fewer skills, earn lower wages, and are still more likely to be unemployed, a 2018 World Bank report on poverty and inequality in South Africa found. And, at the other end of the spectrum, an elite, mainly white minority continues to thrive.
Land expropriation
Sustained inequality has, in part, given rise to leftist parties like the EFF, which helped drive the agenda on land expropriation in South Africa. Their promise of land and jobs for their largely urban poor supporters is a strong draw, though not politically realistic in the short term.
To redress the past, land redistribution and restitution has been a stated priority of the ANC-led government. But it has been best by delays and allegations of corruption. Facing sustained criticism, the ANC voted to move ahead with land expropriation without compensation.
The government's move towards land expropriation without compensation to right the legacy of South Africa's apartheid land policy has led to jitters among potential investors — allies that will be needed if Ramaphosa's promise of a "new dawn" is to be kept.
The South African economy is the most industrialized in Africa, but it's been struggling, hit by wholesale graft in state enterprises and rolling power blackouts.
The blackouts, poor services and water interruptions have all led to sustained protests against local authorities. Many South Africans — especially the youth — are disaffected by the political parties and are opting out of the vote entirely.
Millions didn't even bother to register to vote.
"When did we get our freedom, 1994? All of these years with promises all the way. No man. A lot of black folks are still suffering," said Wilson Mnenbe, a 24-year-old fashion designer in Johannesburg's central business district.
Unsurprisingly, perhaps, he isn't voting.
Read more: https://www.cnn.com/2019/05/08/africa/south-africa-election-intl/index.html
---
---