Why tapping America's oil reserve is a bad idea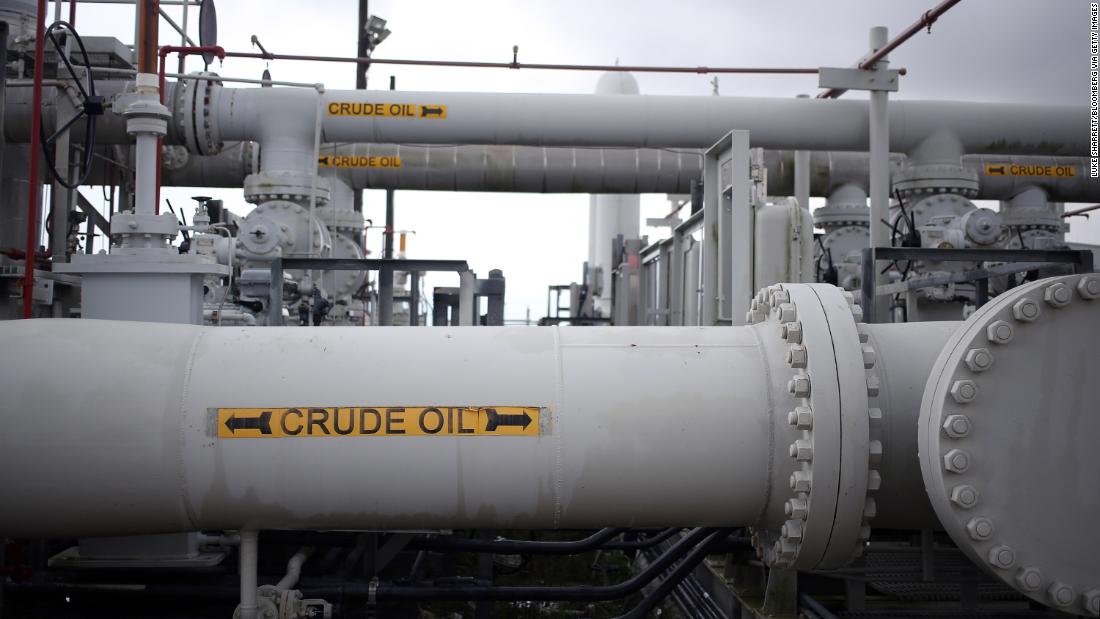 New York (CNN Business)President Donald Trump's crackdown on Venezuela threatens to create a shortage of heavy crude, which American refineries need to churn out gasoline, jet fuel and diesel.
The Trump administration
reportedly
is considering following in the footsteps of past administrations, which responded to oil shocks by opening up the reserve.
But analysts caution that tapping the SPR won't do much to ease a shortage, especially not in the long run.
The problem is that not all crude is created equal. Different regions produce different grades of crude. Some of it, like what comes out of Venezuela, is so thick and heavy that it can't be put into pipelines. Other crude, like what gets pumped in Texas, is a very light and clear like gasoline.
The emergency oil reserve contains crude that is mostly lighter than the
500,000 barrels per day that Venezuela
had been shipping to the United States. The reserve includes some medium crude, too.
The Gulf Coast refineries are not configured to use what's in the rainy-day fund.
"It's not the optimal solution. Ultimately, there would still be a pretty big void," said Ryan Fitzmaurice, energy strategist at Rabobank.
The Energy Department did not respond to a request for comment.
Complex refinery system relies on heavy crude
In the late 1990s, US oil production was believed to be in decline. Refiners could no longer count on light, sweet crude from Texas, and other US states, to churn out gasoline, diesel, and jet fuel.
Refiners went through a transformation that enabled them to take in heavy, sour crudes from overseas.
Flash forward to today, US refineries regularly mix light crude from shale hotspots like the Permian Basin in West Texas with heavy crude from Saudi Arabia, Canada, Mexico, and of course Venezuela.
Last year, the biggest US importers of Venezuelan crude were
Valero
(VLO)
,
Chevron
(CVX)
, Paulsboro Refining and Houston Refining, according to Rystad Energy. The leading importer was Citgo, which is majority owned by PDVSA and is facing US sanctions.
Refiners can't just turn on a dime when the heavy crude gets sidelined. Some refiners short on heavy crude could take medium barrels from the SPR.
However, they would probably not be able to operate at maximum capacity.
'Diminishing returns'
Analysts believe that tapping the SPR would only create a short-term relief in the oil market because the emergency reserve lacks those heavy barrels.
"You'd have less bullets and higher prices," said Fitzmaurice.
Helima Croft, global head of commodity strategy at RBC Capital Markets, said the big question is how long the outage from Venezuela lasts.
"If this is a protracted supply shortfall," Croft told CNN Business, "the SPR will have diminishing returns in terms of effectiveness."
The market for heavy crude is already tight. Heavier barrels, such as the Maya grade from Mexico, are typically cheaper than West Texas Intermediate, the US benchmark. But that relationship has flipped.
"This is very unusual and shows just how much the world (and US refiners) need heavier grades of crude," Pavel Molchanov, energy analyst at Raymond James, wrote to clients this week.
What about Saudi Arabia?
The problem is that the ideal sources for heavy crude are sidelined.
Mexico, for instance, is facing structural production declines that will take "months if not years to reverse," Fitzmaurice said.
Canada is running out of pipelines to get its thick oil to the US Gulf Coast.Rail is too expensive to ship Canadian crude.
And then there's Saudi Arabia.
US Treasury Secretary Steven Mnuchin hinted that refiners could turn to Saudi Arabia for heavy crude. "I'm sure many of our friends in the Middle East will be happy to make up the supply," Mnuchin said late last month when announcing the PDVSA sanctions.
But analysts are skeptical. Fitzmaurice said the Saudis are "unlikely" to ramp up production because they were "badly burned" after accelerating output when Trump announced Iran sanctions only to see the White House grant a series of waivers. The oil market became oversupplied, and prices plummeted. Saudi Arabia has since slashed output in a bid to stabilize prices.
Rather than turning to the emergency oil reserve, Dan Eberhart, CEO of oil services firm Canary LLC, urged the Trump administration to consider other steps such as upgrading America's energy infrastructure to increase the ability to process domestic crude and to import more from Canada.
Eberhart also urged the Energy Department to add more heavy crude to the SPR to "give refiners a cushion to ride out geopolitical market disruptions."
Read more: https://www.cnn.com/2019/02/06/investing/oil-venezuela-sanctions-spr/index.html
---
---