Damien Hirsts 60ft headless demon statue towers over new club in sin city
The bronze sculpture, Demon With Bowl, is the centerpiece of Kaos, the new club at the Palms Casino Resort in Las Vegas
When Damien Hirsts loved and loathed Treasures from the Wreck of the Unbelievable was unveiled in Venice in 2017, the show his first major exhibition in 13 years was likened to Elvis coming back to play in Las Vegas.
Now, one of the most imposing works of that polarizing exhibition has been unveiled as the centerpiece of a very different spectacle a pool/club at the Palms Casino Resort in Nevadas sin city.
The 60ft-tall, headless bronze statue Demon With Bowl is part of Kaos, the hotels new 73,000-sq-ft dayclub and 29,000-sq-ft nightclub , which opened las week with performances by Cardi B and J Balvin among others. Promotional materials say it boasts the highest number of pools of any resort in North America.
It is also part of the British artists wider work with the hotel for its $620m renovation, which is something of a Hirst takeover, though it does also display works by Andy Warhol, Jean-Michel Basquiat and contemporary Brooklyn artist KAWS.
Hirst designed the resorts Unknown bar, which features his 1999 work The Unknown (Explored, Explained, Exploded) otherwise known as a ferocious-looking shark chopped into pieces and suspended in formaldehyde. Revellers at the Kaos club will reportedly be the first to see the original bronze Demon, which was apparently substituted with a resin copy in Venice due to weight restrictions.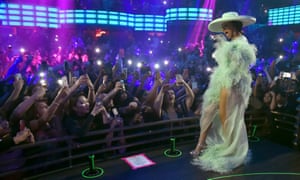 Read more: https://www.theguardian.com/artanddesign/2019/apr/09/damien-hirst-demon-statue-centerpiece-kaos-club-las-vegas
---
---