Border War: Los Angeles officials clash with burbs over homeless 'dumping'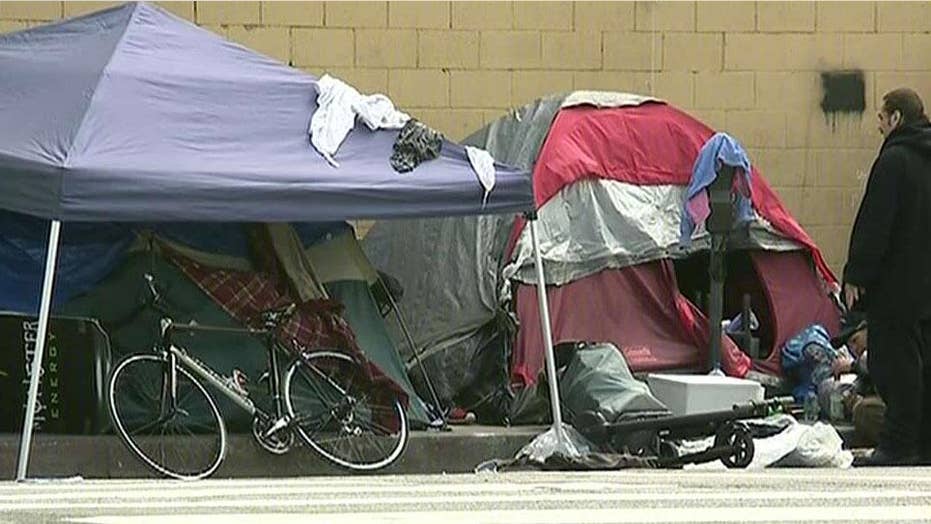 A view of the homeless camp on the Los Angeles side of Venice Blvd. (Andrew O'Reilly/Fox News)
These accusations come amid a damning report to local lawmakers that revealed Los Angeles saw a 16 percent increase in its homeless population over last year – soaring to more than 36,000 people living on the streets and landing a blow to Los Angeles Mayor Eric Garcetti and other city officials working to add more affordable housing and social services. Overall in the bigger Los Angeles County, the homeless population rose 12 percent compared with last year's count, bringing the total population to almost 59,000.
"We came down here from Santa Barbara because there are more opportunities for work and it seems like there is more support here," Lauri, a home care worker who recently lost her job and home after the company she worked for went out of business, told Fox News. She added that she and her partner, Cory, have only been living on the streets for a week, but that it will be tough getting back on their feet.
"It's tough to even get a job interview when you're living out of a tent," said Cory, who previously worked as a personal trainer. "I have nowhere to shave or clean myself or iron my clothes."
DR. DREW SAYS LA PUBLIC HEALTH IN 'COMPLETE BREAKDOWN': 'NO CITY ON EARTH TOLERATES THIS'
Some Los Angeles officials point to the disparity in the number of homeless living in the city as compared with the rest of the county as evidence that neighboring towns are pushing the homeless out of their communities and across the city boundaries. While L.A.'s population of around 4 million people makes up only about 38 percent of the county's total population, the roughly 36,000 homeless people living in the city account for 61 percent of Los Angeles County's overall homeless population.
"All things being equal, the numbers just don't add up," Kvartuc said.
Read more: https://www.foxnews.com/politics/border-war-la-officials-burbs-homeless
---
---